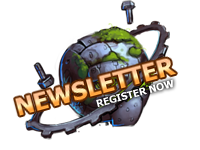 26.September.2012
Planets under Attack Trailer Online
Video shows gameplay mechanics
TopWare Interactive proudly announces the new trailer for "Planets under Attack," developed by the renowned team from Targem Games, the same team responsible for the groundbreaking chess simulator "Battle vs Chess." 
 Showing the basic mechanics of the game, the video gives a first glimpse of the classic
easy to learn, hard to master
gameplay. Alongside Humanity, the player must conquer the universe and unlock secret star routes leading them even deeper into a foreign galaxy. Facing not only insect-like Aliens, Space- Zombies and Robots, but also threatening boss planets and multiple challenges, the player must fight for survival in this lovely and weird universe.
"Planets under Attack"'s straight-forward, fast entertainment, combined with its highly satisfying level completion will keep players continually coming back for more. In a beautifully designed universe, the twisting storyline leads the protagonist on many secret missions deep into undiscovered space. While single player mode offers carefully balanced space battle 'practice,' multiplayer provides endless fun as you, and your opponents, adjust battle tactics in real-time. With up to four players, fight for victory in a multitude of different maps and modes, like King of the Hill, Domination or Elimination on Windows PC, Mac, the Xbox 360® video game and entertainment system from Microsoft and PlayStation 3
TM
.  
The Game will first be released in October on Windows PC and Mac as both download and retail. A downloadable version for Xbox LIVE® Marketplace for the Xbox 360® video game and entertainment system from Microsoft  and the PlayStation Network
TM
will follow soon after. With brand new 3D technology, "Planets under Attack" provides new meaning to the term 'depth of space.' 
 Trailer:
youtube.com
 For more information about all TopWare titles please follow us on
Facebook.