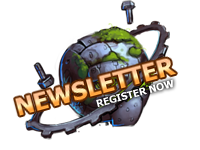 16.November .2012
Planets Under Attack out now on XBLA
The Space Race with Planets Under Attack now begins for Consoles
TopWare Interactive is proud to release the galaxy spanning strategy game
"Planets Under Attack"
today on Xbox LIVE® Arcade for the Xbox 360® video game and entertainment system from Microsoft at the price of 1200 Microsoft Points. With the PC version garnering high praise from the gaming press in recent weeks, now Xbox 360 console owners can see for themselves how much fun interstellar conquest can be.
In the infinite vastness of space, a war rages, and you must be prepared. Discover a taste for strategic planetary domination in an easy, user friendly tutorial. Various challenges will give even the most industrious players the chance to revise and improve their tactics on a variety of foes, including boss planets. Quick matches immediately drop players into the action, allowing both novices and hardened veterans to wage interplanetary war against the AI or other players at a similar skill level. Thrilling matches with up to four opponents allow old friends or complete strangers to fight for the title of ultimate space strategist. Strap on your thinking cap, and arm your forces; victory awaits!
And make sure to follow us on
Facebook
and
Twitter
Find the game
here