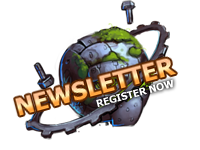 7. December .2012
"Planets under Attack" trial version released
Intergalactic warfare is in need of new heroes
TopWare Interactive launched a trial version of their space strategy title
"Planets under Attack"
today. Developed by Targem Games,
"Planets Under Attack"
is available for PC, Mac and consoles.  
"Planets under Attack"
takes place in a fast paced and colorful world, challenging players to amass riches and conquer their enemies. Thinking on your feet is crucial, as victory can turn to defeat in the blink of an eye. Defend your planets and take your enemies' by force in this easy to learn, hard to master strategy title. The trial version offers a first glimpse at a universe filled with space zombies, sentient space insects and greedy, backstabbing humans.  
"Planets under Attack"
has already built a solid fan base, with multiplayer skirmishes growing bigger every day.  Whether playing alone or against friends, getting hooked on a game has never been so easy! 
 Find the trial version on
www.planetsunderattack.com
.  
Follow us also on
Facebook
and
Twitter
.